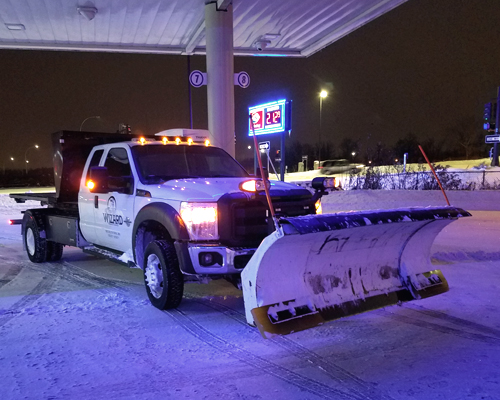 Wizard Snow Removal provides professional ice control, snow plowing, and sidewalk clearing services to commercial and multi-dwelling properties in the Northwest Twin Cities Metro area.
Snow Plowing
We service your property as quickly as possible regardless of time of day or day of week. This ensures safe access to the property and prevents hard-packed snow and ice from forming.
Technological advancements allow us to keep up with changing weather conditions and balance property needs with customer budgets to provide the best possible service without breaking the bank.
New and well-maintained equipment minimizes delays due to breakdowns.
Learn More About Snow Plowing
Wizard Snow Removal performs snow plowing operations for a wide variety of customers. While we're well equipped to handle large sites, our specialty is small and medium sized commercial and multi-dwelling properties where timely service and high quality work are important. Examples of the property types we service.
Commercial properties of any type
Dentist, medical, professional, and office buildings
Retail stores, strip malls, automotive service stations, hardware stores, etc.
Warehouses, storage facilities, shipping terminals, industrial, etc.
Multi-dwelling properties of any size
Condominums and town-home associations
We operate only the most efficient and safest equipment, including snowplows equipped with down pressure for scraping hardpack snow, expanding plows with flexible wings to better windrow snow away from cars, buildings, etc., and vehicles equipped with the latest in safety equipment technology. We employ only the best equipment operators, most with over 10 years of winter services experience.
Wizard Snow Removal offers flexible contract terms and seasonal, monthly, or per-time pricing. We mark every property we service with aesthetic polyurethane damage-free markers to prevent snowplow damage to your property (no unsightly wood stakes or irrigation flags). Every snow plowing customer receives free follow-up visits after each snow event to ensure the property is clear of snow and ice, including plowing the entrances (after city plows have gone by) and parking spaces previously occupied during plowing service.
Sorry, we no longer offer services to single family residential properties.
Ice Control
We service properties as quickly as possible during and after the storm in combating ice in the current weather situation.
Our de-icing equipment uses the latest technology, similar to that used by MNDOT, to start ice melting faster.
Learn More About Ice Control
Wizard Snow Removal is equipped to handle every variety of ice and snow problem mother nature can throw at us. We utilize a variety of methods and deicing chemicals to manage accumulations of hard-packed snow and ice to ensure the safest possible conditions on your property. While many contractors spread salt, salt, and more salt, we realize that there is no "one size fits all" in ice control.
Our policy is to service properties as quickly as possible after the storm, regardless of the time of day or day of week. We take this proactive approach, because all too often, Minnesota snow storms are followed by bitter cold temperatures, and the sooner your property is serviced, the sooner safe conditions can be achieved.
We employ a variety of dry and liquid ice control products for asphalt driving surfaces. We use magnesium chloride liquid with corrosion inhibitors on nearly every ice control application, by either spraying it directly onto rock salt as it is being spread from truck mounted spreaders, or using pre-treated product such as Cargill Clearlane. This results in rock salt that is more likely to "stick" to the surface instead of bouncing off or being scattered by vehicles, and starts the process of disolving the rock salt immediately, and creating the brine solution that does the melting. We also have unique equipment that allows us to mix varying ratios of products as they're being applied to increase effectiveness in cold temperatures.
For sidewalk applications, we mix our own dry products to ensure quality and effectiveness, dependant upon property requirements and weather conditions. We also employ treated salt products such as Cargill Clearlane and Magic-Salt to ensure safe conditions in cold temperatures.
Wizard Snow Removal does not typically spread sand. Sand is however still fairly common amongst local contractors due to it's low cost.
Sand does not melt ice, the chemicals mixed into it (typically sodium or calcium) do the melting, but are typically at such low ratios, the chemicals aren't very effective. Due to this, contractors often over-apply.
Sand is "pushed into" the ice and hardpack by vehicles traveling over it, reducing it's effectiveness.
Sand tracks easily into buildings, causing increased flooring wear, increased interior cleaning costs and higher maintenance costs.
Sand is difficult to remove from turf grasses in the spring and often causes turf damage.
After the snow and ice has melted, the residual sand can be quite slippery for pedestrians.
Sand must be swept up in the spring, increasing property maintenance costs.
In the vast majority of icing scenarios, slippery conditions can be prevented and/or removed through the use of deicing chemicals and mechanical removal. Sand is typically only required for temporaty traction when extremely cold temperatures are present for an extended amount of time.